What is OEE and why is it important
With increasing competition in the market, manufacturers must increase the productivity of producing quality products. In today's economy, you are expected to continually improve your return on total capital. Because it is difficult to raise capital to build new, more efficient plants and purchase new equipment, you often have to meet growing production requirements with existing equipment and facilities while reducing costs.

What is OEE?
One of the most important indicators for measuring the productivity of production and usability of machinery and equipment is OEE (Overall Equipment Effectiveness) - TEE (Total Equipment Efficiency). OEE was first used by Seiichi Nakajima, founder of Total Productive Maintenance (TPM), who described how to monitor production performance.
OEE offers users a great way to track equipment efficiency and production trends. With the introduction of OEE, companies will gain important insights to improve production processes and minimize resource waste.

OEE calculation
OEE tracks the most common and important sources of productivity loss in the production process and divides them into three categories: Availability, Performance and Quality.

Availability: measures productivity losses at shutdowns, such as device failures, changes (settings, adjustments) and waits.
Performance: measures losses due to slow production cycles (factors that cause the process to run at a speed lower than the maximum possible speed - ideal cycle time).
Quality: measures waste from manufactured parts that do not meet quality requirements.

Structure of production time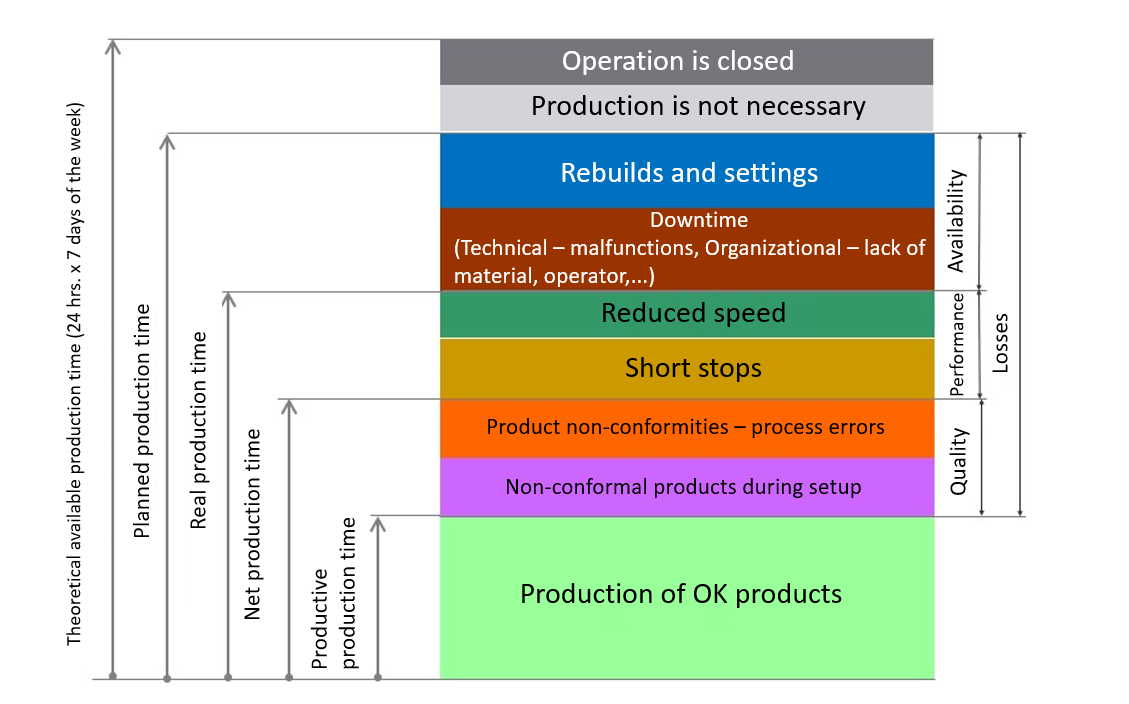 Why is OEE important?
Analysis of production through the overall efficiency of the equipment has three main advantages:

Increasing output capacity
OEE helps identify bottlenecks that occur in processes. The key is the collection and thorough analysis of data in real time. By predicting and troubleshooting equipment, you can alleviate one of the biggest problems in production - downtime.
Cost reduction
Preventive maintenance based on OEE data has another advantage. By successfully preventing costly repairs and extended downtime, you can keep equipment-related costs under control.
Improving productivity and operating profit.
The ultimate goal of OEE optimization is simple. Make more goods at once. Combined with increased production quality, you will be able to serve more customers over time, and this helps to achieve a higher goal - increased operating profit.

The published benchmarks for OEE factors are also excellent indicators of market competitiveness. According to Toyota, it has been considered a world leader for decades. The World Class OEE value of 85% is achieved at availability = 90%, performance = 95% and quality = 99%.
A typical value for manufacturers of 60% shows that there is considerable room for improvement, while 40% is considered a low value, but not uncommon for manufacturers who are just beginning to monitor and improve performance. In most cases, the low value can be easily improved by easy to apply measures.

For manufacturing leaders looking for real performance improvements, real-time OEE monitoring is an effective tool for identifying opportunities for best results.
Recommended e-learnings:
:(
Žiadne e-learningy