Innovations in project-oriented organizations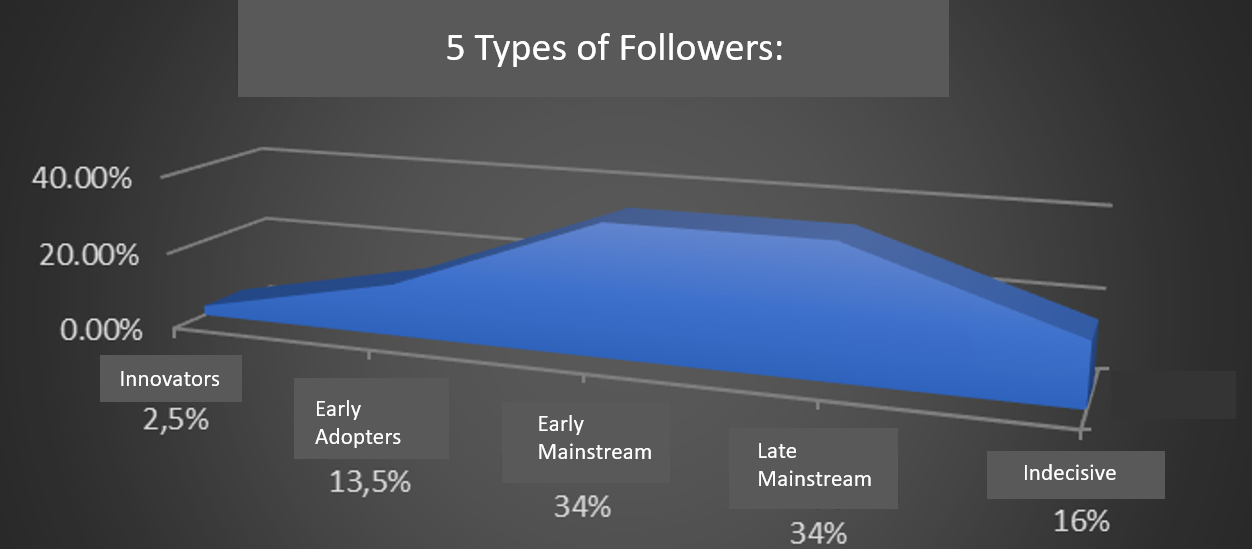 In project-oriented organizations, leaders and managers ask me how they can effectively motivate their followers to innovate. This is a more complex topic, but I will try to describe it based on my knowledge from the following organizations:
1 - We are all different, some are proactive, others reactive. We recognize up to 5 groups of followers:
Innovator

Early adapter

Earlier mainstream

Late mainstream

Undecided
You can also divide the collaborators into three groups, we have already described this division in one of our previous articles, where we explained the theory of "People on the fence".

Simply put, those on the left are proactive who are natural and interested in new things. Reactive followers (from canter to right) are also extremely important in project teams, bringing security and safety, although this is not the easiest thing for them to implement change. If I were to summarize this first finding in one sentence, "get to know your people so that you know from whom you can expect innovation and who you will still have to push into the necessary changes."
2 - The second factor is the style of management and the way of communication. If you drive mainly autocratically and your management profile is more like a "flower in a pot" profile, the result will be that your followers will not be able or willing to offer innovations.
Tip - even if you are a proactive "flower in a pot", try to at least customize the management style to be consultative. It is not enough to be participatory and it is no longer appropriate to run a company freehand here.

3 - The third factor is perhaps the most important for understanding the whole issue. Imagine that you are a project manager and you deal with the situations that the implementation of the project brings you on a daily basis. If you look at it from this perspective, you will understand that your people are essentially permanently "online" in finding solutions. They simply need peace and time to innovate in the process. That's right, these are factors you don't have in your projects. So, when should your followers bring those innovations?
So how do you innovate project-oriented organizations? Basically, you have several options, but I'll just list these 3:
You will continue to be the engine of the company and especially you will be the bearer of innovation with everything that goes with it - motivation, training, control, processes, etc.

You will start building a corporate culture according to the Kaizen methodology, which will give freedom to your followers. In this case, however, it means easing the pressure that you personally are pushing towards innovation.

The third option is a kind of compilation of the first two options in cooperation with external consultants. Here I recommend a comprehensive approach that you know from a learning organization. The Euro Economist portal, for example, also describes it properly. Basically, you have to realize that this is a long-term process with everything that goes with it.
If you know or apply other solutions to this problem, write to us.
If you manage projects outside the company's headquarters or operations, I give a tip on an innovation that I am currently dealing with in more depth, and that is Field Service Management. I will write about my experience with the transition to FSM in one of the other blogs.

lektor CeMS, Martin Zibrín
Recommended e-learnings:
:(
Žiadne e-learningy